This is to all my readers (HI to both of you!) who use lots of hair products.
I use at least four each morning (spray gel, mouse, heat protectant and hair spray ... thank you curly hair), and without doing this little tip, I would have to mop my bathroom floor every single day!
So how do I keep all of that sticky residue off of my floor without cleaning up after each use?
I hold my head over the bath tub! Of course I apply all of the products with my head upside down (to add volume). If you don't do that, this may be more difficult for you ... sorry!
This way, any extra product falls in the tub and whoever takes a shower next just washes it away. And it doesn't matter if it makes the tub sticky because it just keeps you from slipping.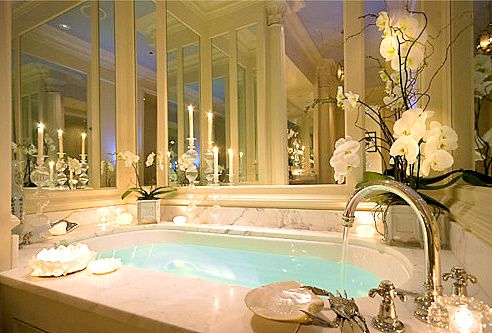 And no, that is not my bathtub, but a girl can dream, right? :)
Hope you find this helpful!!