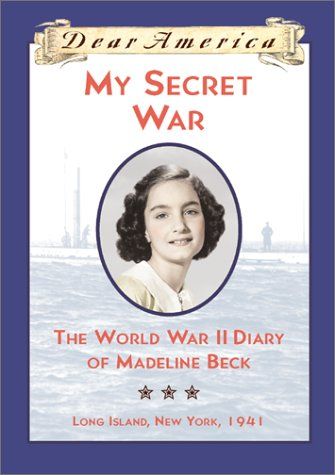 I found this book for 25 cents while out thrifting with Michelle. I read many of the Dear America series when I was younger and had forgotten about them until stumbling across this.
I read it this past weekend on the ride to Texas. It only took me a couple of hours because it is written for beginning chapter readers.
Each book in the series is set up like a diary from a girl during different time periods. The people are fictional, but the events, like WWII here, are not.
I recommend these to anyone with young girls because they contain strong young female characters who seek to make a positive difference in their community. I think each book could be used to open the doors for deep discussions with children. In this example alone one could broach the topics of:
War
How war affects families and children
Romantic relationships between boys and girls (Madeline is more focused on helping the war effort than Johnny, although they do hold hands and kiss once or twice)
Being a leader at school (Madeline reports on the war to her classmates and eventually starts a club to help the war effort
Being different (Madeline is the only student with a dad in the military)
The challenges of making new friends (Madeline is new at school)
Bullying (Some of the girls at school are mean to Madeline, but she eventually befriends them)
Trauma (Madeline becomes friends with a Jewish girl from Germany and Madeline later faces her own trauma when her dad is injured in the war)
Coping skills (Madeline withdraws from friends during her traumatic experience)
Standing up to friends (Johnny calls out Madeline when she stops being a leader)
And many more.
It was fun to read something from a series I loved as a child. I'm so glad my parents encouraged and fueled my love for reading when I was younger. I think it has made all the difference.