This will be a new weekly (hopefully) post. I intend to post weekly goals for myself and ask you to hold me accountable. At the end of the week, I'll tell you how I did on each goal in my Weekly Wrap Up posts. Yay for goals and accountability!
The weekly goal-setting idea was inspired by a blogger I follow, Money Saving Mom and here is an example of her goal-setting.
Also, I will list the 'good things' I'm looking forward to in the upcoming week. My hope is that this will help me think more positively. Instead of focusing on the things I dread in the upcoming week (such as work, in general, or an appointment with the 'girly' doctor) I can turn my attention toward the many blessings God has in store for me. Yay for positive thinking!
This was just my own idea, because I'm motivated to become more positive. Life is too short to be negative.
So here is my first go-around. These are all goals I wish to complete this week.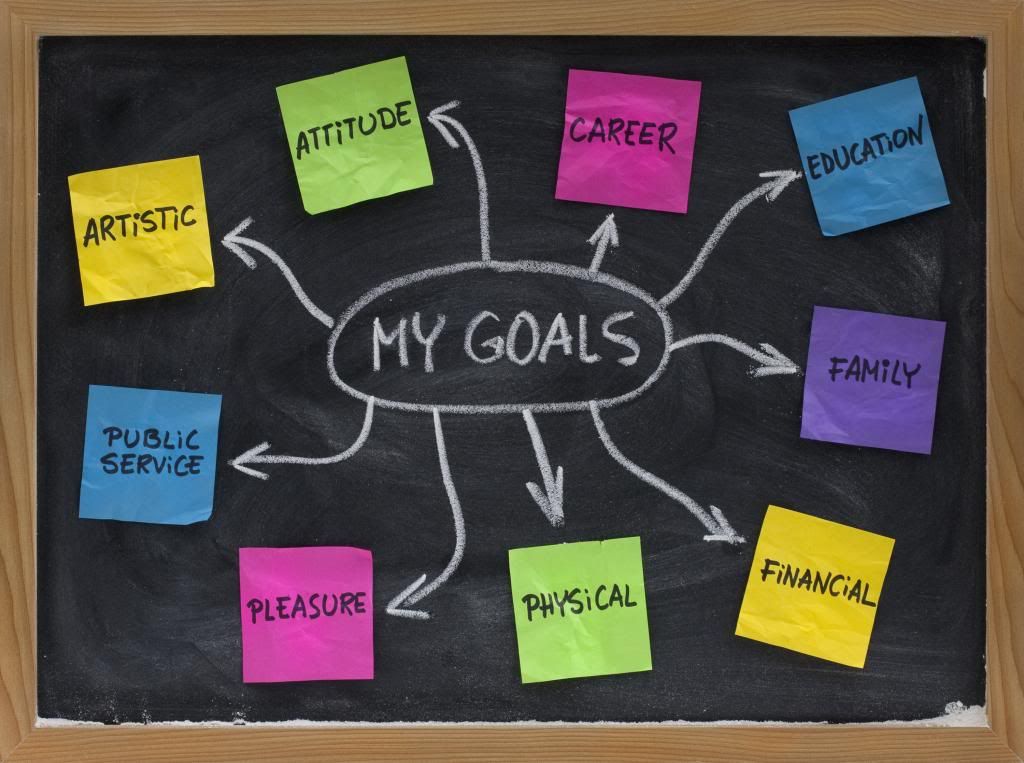 Spiritual
(1) Finish strong in my current Bible study, which is being hosted by my home-church. We are studying He Speaks to Me by Priscilla Shirer. I've really enjoyed the study and spending time with these lovely ladies. This is the last week of daily lessons.
(2) Join the Good Morning Girl's - Anything Bible study and purchase the book. This would be my first online Bible study. I'm not really sure how it all works, but I know a woman at my church who is doing it so I know we can help each other stay connected. You can find more information about it here. If you would like to do it with me, please let me know, because I would be very excited to have someone to meet up with and discuss the topics!!
(3) Journal at the end of each day. I'm going to do a post on the way I journal later.
Marriage
(4) To pray for TJ daily using this. I found this over a year ago. If you scroll to the bottom, you will find a link to print out daily prayer cards. It lists a different way to pray for your husband for each day of the month. I printed these and glued them to bright colored index cards way-back-when. I used to carry them in my purse, but now they are sitting on my nightstand collecting dust. I really want to start lifting him up and supporting him in this way.
School
(5) Finish reading and selecting sources for my next paper.
(6) Create an outline for the same paper.
Career
(7) Memorize the mission statement for the Department I work for.
(8) Memorize the mission statement for my individual facility.
Personal
(9) Finish reading The Centurion's Wife.
(10) Exercise for 15 minutes each day.
Here are some good things I am looking forward to this week.
- On Sunday, Emily is graduating from children's church into the youth group. I am very excited to attend this and to see Emily grow into such a beautiful, young woman of God.
- Also on Sunday, I get to see my dear friend Michelle to celebrate her birthday.
- On Friday, TJ's aunt and uncle are coming to visit from Georgia and we get to have dinner with them.
- On Saturday, two of our youth group "kids" are graduating from High School and we get to cheer them on and celebrate all they have accomplished.
- Also on Saturday, I get to see a dear friend from the Tulsa area and eat at our favorite chinese restaurant.
It's going to be a wonderful week!
What are your goals for this week?
What are you looking forward to?