Sunday November 18, 2012
This was one of two Undie Sundies at our church. We are trying to gather new underwear, shirts, and socks for a local school.
This was also our church's Thanksgiving Dinner. I meant to take pictures and didn't. :(
The food was super delicious though and it was packed house. Love fellowshipping with everyone! :)


Monday November 19, 2012
The beginning of a three-day work week. Definitely worked hard all day. The time flew.


Tuesday November 20, 2012
Spent a quiet and lovely evening at home with my handsome hubby.


Wednesday November 21, 2012
My work department had their T-day potluck lunch. I brought a copy cat recipe of Cracker Barrel's hashbrown casserole. It's something I love to eat at thanksgiving, so I thought someone else might as well. Everyone loved it, which made me really happy. :)
Our church didn't have services this evening, so there could be more family time for the holidays. Love that they encourage us in this way.
Thursday November 22, 2012
HAPPY THANKSGIVING!
Every year we switch back and forth for Thanksgiving. This year was TJ's year so we went to his family's T-day celebration.
Ready to nom on some Turkey Day deliciousness!
Us and the original Shinns :)
Becky and I take great pictures together :)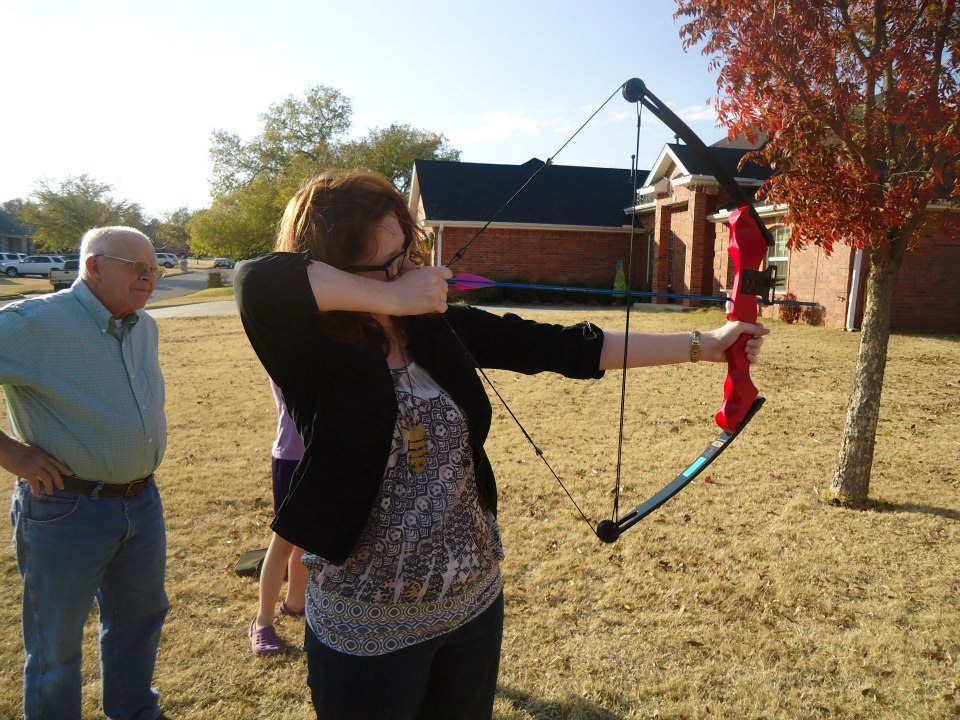 This year we all took turns shooting Lucy's (9 y/o) bow and arrow after watching Brave.
Friday November 23, 2012
Since we weren't able to spend Thanksgiving with my side of our family, we went and saw my grandma today. I'm kicking myself for not taking any pictures, but we had a wonderful time talking with her and catching up on all the news. I swear, grandmas are the original Facebook; they know everything that's happening with every one. :)
Later that evening we went on a date to Cheddar's and a dollar movie - Looper. This was seriously the most people I have ever seen at a dollar movie, the theater was probably 1/4 full people! I didn't like the movie. Yes, it made me think, but I called the ending within about 20 minutes of the beginning, and [SPOILER ALERT]
I didn't like the part where they kill a little boy. I was ready to leave right then.
Oh, speaking of movies, I can't remember which night it was, but we watched Source Code and that movie still has me thinking. I really liked it!!
Saturday November 24, 2012
On this day, we decorated for Christmas! :) TJ got us a 4 ft tree this year, which is twice as big as our 2 ft tree from last year. We just don't have room in our apartment to put up or store anything bigger. Can't wait to get a house and get a big tree, and we'll have a medium and a small tree to match :)
Stockings hung with care
Our Christmas Tree
Sorry this didn't post earlier in the day, but here ya go, our weekly wrap up :)